What is the origin of breast augmentation surgery ?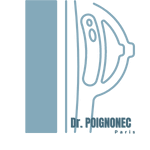 Breast augmentation is a procedure designed to increase breast volume by inserting new generation breast implants or fat grafting (in specific cases only). Side effects include bruising, swelling.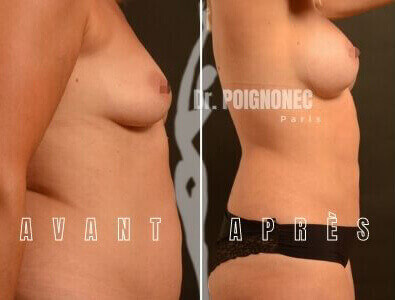 Where are the new generation breast implants placed in combination with the pectoral muscles ?

How to increase breast size ?
Can breast augmentation with implants cause cancer ?
How to increase breast size ?
Breast augmentation surgery, which has been performed under general anaesthesia for over 60 years, consists of placing breast implants to increase the volume or change the shape of the breast according to the patient's wishes.
Can breast augmentation with implants cause cancer ?
Breast augmentation : which size to choose ?
The patient expresses her wishes and the plastic surgeon advises and guides her in her choices.
Computer simulations can be made from photographs of the patient taken during the consultations.
The patient can attach photos of breasts from women's magazines to give free rein to her imagination.
Patients try on different templates for different breast sizes.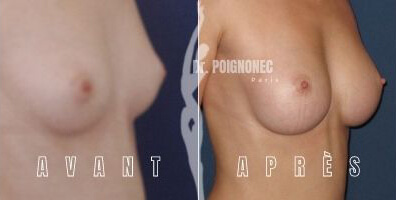 What are the techniques for breast augmentation ?
For breast implant :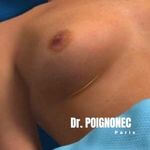 Most often in the breast fold (1)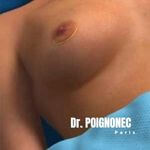 The incision is in the lower areola (2)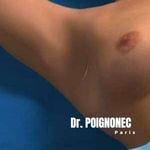 (3) The incision under the armpit is practically no longer made.
The scars are usually almost invisible. An incision is then made at the location identified during the consultation, creating a pocket that rests on the patient's chest and places the implant in front of or behind the muscle.
The procedure takes 30 to 40 minutes for each breast. A support band is placed at the end of the procedure and replaced by a support bra the following morning.
The surgery lasts 24 hours in a private clinic in Paris.
Note the questions you will ask your surgeon:
During a consultation appointment, the surgeon examines the patient in the Paris-Eiffel medical aesthetic centre, inquires about her health, examines her medical history, studies her morphology, observes her skin quality, muscle tissue and breast. To see the results in advance, the surgeons use a real-time 3D simulation of the breast augmentation to perform the breast implant placement.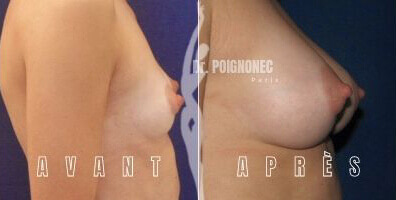 Create your secure profile take and upload 3 of your selfies in preparation for your online consultation
Prepare your 3D consultation and discover the evolutions, possible changes and analyses of your breasts, including breast asymmetry taking into account all your physical characteristics, by clicking on the link in the video.
Information: When your breasts are small, you don't have much skin. In this case, choosing breasts that are too big will not look natural : the skin will be stretched, the breasts will appear inflated and create a « bimbo effect ». When considering future pregnancies and physical changes, you should also be wary of gaining mass: today's improvements should not be disruptive in the long term. There are limits to what you can achieve. The choice of size is therefore crucial. But if the choice is not good, surgery can be redone after a while to change the size of the implants.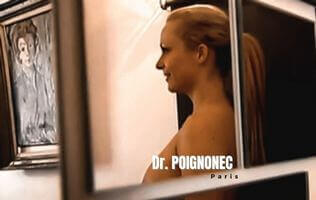 How long do breast implants last and when should they be replaced ?
Answer in the video resolution of this question
The before and after results are on the picture
Which type and shape of breast implants to choose ?
Advantages and disadvantages of breast implants
a. Silicone breast implants
Fixed surface and volume breast implants pre-filled with silicone. Smooth implants are always rounded to avoid deformation due to implant displacement. There is no risk of silicone gel migration in case of implant rupture.
1. Advantages of filling with silicone :
—Limits the appearance of creases.
— Eliminates the risk of deflation.
— Close to the consistency of normal breasts.
— No spread to the surrounding tissue if the envelope breaks.
2. Disadvantages of pre-filled silicone implants :
— The product cannot be absorbed by the human body if the shell is broken.
— The risk of « coque » shrinkage (hardening) is slightly higher with macro-textured shells, but we now only use smooth or micro-textured implants.
b. What are the forms of breast implants ?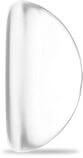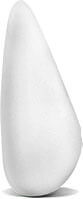 Moderate high profile breast augmentation with a low-cut neckline without a bra
1. Round breast implants :
Round breast implants are filled with silicone. These implants offer the same volume in the upper breast as in the lower breast and have a greater pessimistic effect than pear-shaped or teardrop implants. Breast massage is recommended to keep the breast implants soft and mobile.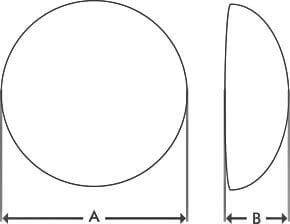 1. Which patients can benefit from apple-shaped silicone implants ?
Young patients want a moderate breast size (300 cc or less) C cup or small D cup. This implant will give them natural breasts with a youthful appearance. This type of implant is also suitable for sportswomen, as the round implant can be rotated in their breast pocket without any consequences. The apple-shaped implants with large volume are suitable for patients who want very rounded breasts and a very sexy cleavage because the breasts remain round.
Large volume breast augmentation with natural results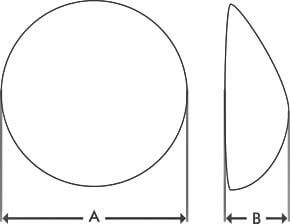 1.2 Anatomy of breast implants
Teardrop or medium round pear shaped implants Breast implants are filled with cohesive silicone that will not leak even if the implant ruptures. These implants are ideal when the result should be as natural as possible, providing more volume in the lower pole of the breast and less volume in the neckline. This implant does not require breast massage. The teardrop shaped implant is suitable for all body types.
1. Are anatomically shaped silicone breast implants the solution for more natural results ?
These are pear-shaped implants that take on the natural shape of the breast, larger at the bottom and more tapered at the top: this way, even greater volume is more natural. The disadvantage of these implants is the risk of swirling in the breast cavity: they are therefore not recommended for sportswomen, athletes, dancers, or bodybuilders.
If the implant moves in the groove, it will be necessary to propose a re-operation to reposition it. Anatomical implants are slightly more expensive than round implants.
2.1.3 Round or anatomical breast implants, which to choose ?
When a patient wants a breast augmentation, she has questions about the composition and shape of the implant. Regarding location, most European or Atlantic cosmetic surgeons use soft silicone breast implants. Saline implants offer more aesthetic advantages, but often disappointingly, folds are sometimes seen in the cleavage.
The new silicone gels are very reliable, safe, soft and imperceptible to the touch, especially when placed behind muscles or behind glands with sufficient remaining volume. These silicone gels are covered with a micro-textured envelope that reduces the risk of postoperative shells. In some cases, a polyurethane gel can be used to increase the adhesion of the implant to the deep tissue for better fixation.
1.4 How to choose anatomical or round breast implants
1. It depends on the patient's wishes and what is possible.
Case 1 : A 20 year old girl with hypoplasia.
In the case of a 20 year old woman who has mammary glands that do not develop at all (agenesis) with a flat chest (hypoplasia), the implant is normally placed behind the muscle so that it is completely impalpable. If the young woman wants a small size, a round implant of moderate size (200cc) can be a good choice. If she wants a very large size, it is easier to choose an anatomical pear shape to avoid a too rounded look and an unnatural cleavage.
I would never recommend the use of an oversized implant for a young woman with no breasts, as such implants are already difficult to place due to the lack of elasticity of the tissues and on the other hand a strong tension can make the breasts less natural.
Case 2 : 40 year old female patient with 2 children.
Consider a 40 year old patient with two children who has developed a melting breast gland after breastfeeding. In general, it is the upper external part of the breast that is most often atrophied, and if the breast is slightly sagging, it is sometimes wise to propose an anatomical implant that produces a natural effect and slightly raises the height of the nipple.
Reimbursement of breast implants and health insurance coverage
This purely cosmetic surgery will not be reimbursed by the Health Insurance. Except in cases of congenital breast hypoplasia (severe breast hypotrophy) in young women, subject to prior agreement.
Appointments from Monday to Friday
9 AM TO 8 PM
phone :
And on Saturday mornings from
09 AM to 13 PM
Our team will work with you to provide a complete and personalised service to achieve and control your results. In addition, you can make all post-operative visits at no extra cost. For us, your health and well-being are our top priority.
On time to the
private clinic in Paris
Before surgery, perform a thorough examination :
A pre-operative assessment is required.
An anaesthetist must be consulted within 48 hours before surgery.
A mammogram and/or an ultrasound scan are required unless the last check-up was very recent.
A few days before the surgery, you must stop taking medications containing acetylsalicylic acid (aspirin) and anti-inflammatory drugs, ibuprofen (Advil, Motrin), warfarin (Coumadin) and other drugs that aggravate and complicate blood clotting, within 10 days before the surgery.
To avoid phlebitis, it is advisable to wear compression stockings before the operation and until you leave the hospital.
The surgery is usually performed under general anaesthesia and you must fast for six hours before the surgery, so do not eat or drink anything.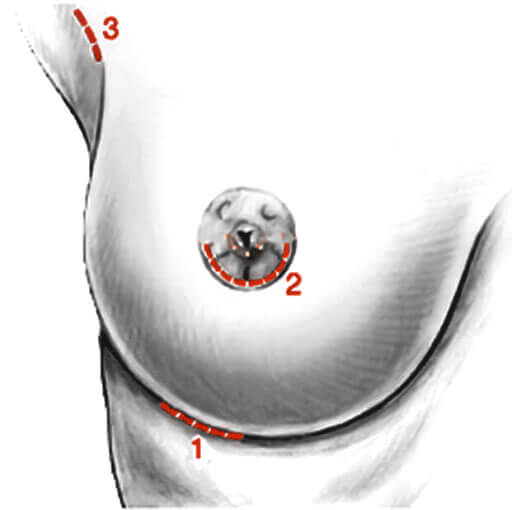 Always tell your doctor :
What medicines you are taking, even supplements or herbal medicines you bought without a prescription.
If you are or may be pregnant.
It is essential to stop smoking. Smoking can cause healing problems. Call your doctor or tobaccologist on 39 89 (free number). If the liquid of the e-cigarette contains nicotine, you should avoid vaping, even without the tar. The vasoconstrictive effect of nicotine negatively affects healing.
Again, do not eat or drink after midnight the night before surgery.
Take any medication prescribed by your doctor, followed by a sip of water.
Wear loose-fitting clothing with buttons or zips on the front, such as a soft, loose-fitting bra without underwire.
Results of breast augmentation surgery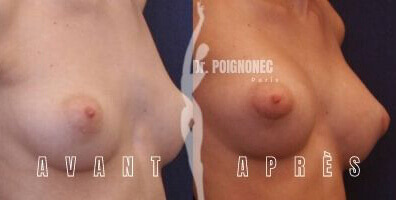 The results after breast augmentation are usually immediate and very pleasing to the patient, with a natural look and firm consistency. Regular check-ups by your doctor and regular mammograms (if you are old enough) to ensure that there are no complications that need to be detected and treated quickly.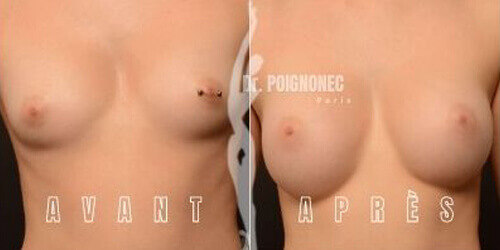 Is it better to have the operation under local or general anaesthetic ?
General anaesthesia is commonly used, but local anaesthesia is also an option. The anaesthetist will discuss the most appropriate anaesthetic option with you during the consultation.
— Breast surgery is performed in a clinical operating theatre with complete safety and peace of mind for the patient.
— The procedure takes 1-2 hours and is performed under general anaesthetic. In some specific cases, you can use a local anaesthetic.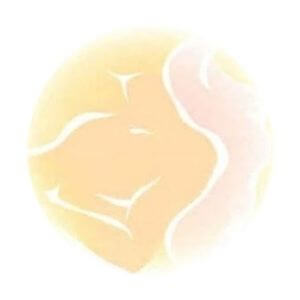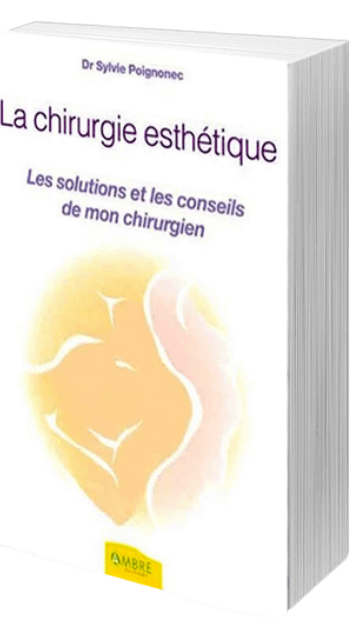 Breast augmentation after breast hypoplasia :
Post-operative follow-up and duration of the healing process ?
Pain, treatment, swelling and bruising, sutures.
Sometimes patients who live close to the clinic can go out the same day.
On waking up, the patient may feel tense and even a little sore, especially if the implant is large and/or placed behind the muscle.
This pain usually disappears after a few days.
A painkiller is prescribed.
Swelling and bruising may occur immediately – breast size is 10% to 15% larger than expected in the first few weeks.
Patients may feel some discomfort when lifting their arms, which will gradually disappear over time.
After a few days, the first layer of bandage is removed to make room for a support bra.
It is recommended to wear a bra without underwiring day and night for 6 weeks.
No redon (drain) so they do not need to be removed the next day.
The sutures are absorbable, so there is no need to remove them, just cut the stitches and excess knots 8 days after surgery.
If non-absorbable sutures are used, they will be removed around day 7.
Patients should not drive for the first two weeks or lift weights for one month.
She should wait at least six to eight weeks before resuming physical activity.
It takes about two to three months to see the final results, which is the time it takes for the breasts to become supple again and for the implants to stabilise.
Specific risks and disadvantages of breast implants ?
Breast implants, although primarily for cosmetic reasons, are still a legitimate surgical procedure that carries risks associated with any surgery, no matter how small. The post-operative process after breast augmentation is generally straightforward.
However, complications can occur, some inherent to all breast surgery procedures and others related to the placement of a foreign body in the breast. Let's distinguish between complications related to the anaesthesia and complications related to the surgery.
Complications inherent in the breast surgery procedure :
Haematoma : The accumulation of blood around the implant is an early complication and can occur within the first few hours. If this is significant, it is best to return to the operating room so that the blood can be drained and the bleeding stopped at the source.
Serous effusion: The accumulation of lymphatic fluid around the implant is a fairly common phenomenon, usually associated with severe oedema. It causes only a brief increase in breast volume. It will gradually disappear spontaneously.
Infection : This is rare after this type of surgery. It may not be resolved with antibiotic treatment alone, followed by a few months of revision surgery to drain and remove the implant (before a new implant can be placed without risk during a second surgery).
What are the warning signs ?
Any change in the breast: pain, firmness, volume, reduction or appearance of a fibrous envelope around the implant. Most reports are of implant rupture with clinical or ultrasound warning signs. This is a known and serious complication of breast implant placement and requires reoperation. Ruptures reported to the ANSM occurred on average 7.6 years after insertion (standard deviation +/- 4 years). This average time does not correspond to the average life of the implant. Indeed, the ruptures expressed are generally those considered as « abnormal » by the declarer because they occur before the 10 years o implantation of what is considered as the usual median life of silicone breast implants. Some women have silicone breast implants that remain in place for a long time, but the implants should not be considered "set in stone", meaning that they will wear out.
Other specific forms of infection :
Skin necrosis : insufficient oxygenation of the tissues due to a local lack of blood supply, which can be caused by excessive stress on the patient, haematoma, infection or heavy smoking. This is a very rare but worrying complication as in extreme cases it can expose the implant locally, especially with inconsistent sutures. Revision surgery is usually required and sometimes the implants have to be temporarily removed.
Abnormal scarring : The healing process involves quite random phenomena, sometimes the scars are not as inconspicuous as expected in the long term, and take on very variable appearances: enlargement, retraction, adhesion, hyperpigmentation or reduction of pigmentation, hypertrophy (swelling), and even abnormal keloid scars.
Sensory changes : These are common in the first few months but usually regress. Rarely, however, some degree of dysaesthesia (decreased or exaggerated sensitivity to touch) may persist, particularly in the areola and nipple.
Galactorrhoea/milk discharge : There have been very rare reports of unexplained postoperative hormonal stimulation, resulting in milk discharge (« galactorrhoea »), sometimes with collection of fluid around the implant.
Staphylococcal toxic shock : rare cases of this sudden generalized infectious syndrome have been reported.
Micro abscesses : more frequent, they develop on a suture and are rapidly resorbed after removal of the incriminating thread and local care.
Pneumothorax is rare and will benefit from specific treatment.