Rhinoplasty specialist — Expert in social and professional aesthetics

My job as an experienced female rhinoplasty surgeon
Rhinoplasty is a cosmetic surgery procedure that is attracting a great deal of interest from patients who want to improve the appearance of their nose and boost their self-confidence. As a female cosmetic surgeon and a member of the SOFCEP (French Society of Aesthetic Plastic Surgeons), I specialise in this particular procedure, which is aimed at a wide audience. I'd like to tell you more about my work as a rhinoplasty specialist and the different techniques I use to meet my patients' expectations.
Voir cette publication sur Instagram
Voir cette publication sur Instagram
A career dedicated to rhinoplasty : expertise, teaching and commitment
Over the years and after numerous operations, I have acquired unique expertise in nose surgery. This enables me to offer solutions tailored to the specific needs of each patient, whether it's a question of correcting aesthetic or functional defects. I attach particular importance to social and professional aesthetics, and ensure that the result obtained is harmonious and natural.
I regularly speak at national and international conferences to share my vision and expertise with my colleagues and fellow surgeons. These exchanges give me the opportunity to keep abreast of new techniques and innovations, so that my patients can benefit from them.
Understanding rhinoplasty : an overview of the different procedures performed
Rhinoplasty is an operation that can be carried out using several approaches, depending on the diagnosis made and the patient's expectations. The main methods include primary rhinoplasty and secondary rhinoplasty. I'm going to introduce you to these two types of operation, as well as to « Preservation Rhinoplasty », an innovative technique in which I specialise.
Primary rhinoplasty : redefining the nose for a more balanced face
Primary rhinoplasty is the first nose operation performed on a patient who has not previously had surgery on this area of the face. It is used to :
Modify the size and shape of the nose
Straighten a deviated septum (septoplasty)
Improve the balance of the face and the harmony between its different parts.
Throughout the process, I attach great importance to communicating with my patient in order to fully understand his or her objectives and to determine together the best strategy for achieving them.
Secondary rhinoplasty : correcting complications or dissatisfaction after a first operation
Secondary rhinoplasty is intended for patients who have already undergone nose surgery and wish to correct complications that have arisen or improve the result obtained. This procedure is more complex than primary rhinoplasty, as it involves working on scar tissue and dealing with specific technical constraints.
During a preliminary consultation, I will establish a precise diagnosis of the problems encountered, so that I can offer appropriate, personalised treatment.
Voir cette publication sur Instagram
Preservation Rhinoplasty : an innovative approach that preserves the natural structure of the nose
Over the last few years, I have become particularly interested in Preservation Rhinoplasty, an innovative technique that allows rhinoplasty to be performed without removing the cartilage. This method relies on the use of specific instruments to reshape the nasal structures while preserving their integrity. Its main advantages include
Less trauma to the nose, leading to faster recovery
Reduced risk of complications
Natural aesthetic results, with a smooth transition between the nose and other parts of the face
As a female surgeon operating in Preservation Rhinoplasty, I offer this solution to patients who qualify for this less invasive method, which maintains both the functionality and aesthetics of the nose.
Voir cette publication sur Instagram
The main role of a rhinoplasty surgeon : comprehensive, personalised care for each patient
In my profession, I believe that each patient is unique and deserves special attention in order to understand their motivations and determine the best strategies to implement. It is this tailor-made approach that ensures the success of the procedures performed and patient satisfaction.
My main objective as a female cosmetic and reconstructive surgeon, specialising in rhinoplasty, is to offer comprehensive, tailored support throughout the consultation, surgery and post-operative follow-up process. This is done with respect for the integrity, needs and expectations of each individual, in order to achieve a harmonious, natural result that helps to boost my patients' self-confidence.
Book your 1st remote video consultation or your post-operative nose care consultation at the Centre Esthétique Paris - Eiffel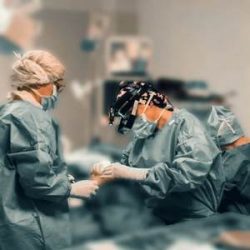 MAKE AN APPOINTMENT FROM MONDAY TO FRIDAY BY PHONE : from 8 am to 8 pm
Make an appointment online 24 hours a day 7 days a week