Who is Dr. Sylvie POIGNONEC ?
Specializes in aesthetic plastic surgery and attached to the Pitié-Salpêtrière hospital in Paris.
Dr. Sylvie POIGNONEC Aesthetic plastic surgeon on Paris certified by the High Health Authority, recognized and qualified by the order of French doctors specializing in aesthetic surgery and Anti-Aging medicine procedures.

Video Credit :
My philosophy of aesthetic surgery…
As a woman I measure the importance of physical appearance in relation to others and in personal well-being. Finally, except to live on a deserted island, one is confronted at every moment of his life to the image that one gives of oneself. In a relationship that begins the first contact is visual first. To feel good about yourself is to evolve serenely in a world, well in its body well in its head. As a cosmetic surgeon my aim is not to radically transform a face, a silhouette or to completely alter a personality but rather to embellish subtly, to improve certain defects, to rejuvenate in an unsuspecting way and Unsuspected. And aging is so terrible? The Eternal race for youth is lost in advance and for all … You have to know that one can nevertheless be beautiful at all ages to take care of its body, its face and its soul … My job is to help those who are struggling to go through the years, to love each other at all ages in their lives by offering them the latest technical innovations to keep a beautiful skin spotless, few wrinkles, sign of good health but whose expr Reprint is unchanged and the personality preserved. Unlike the Americans or Brazilians, the French women who come to my office are mostly very discreet about their cosmetic interventions. As in fashion, the French touch, the distinction and the chic reside in a naturally harmonious appearance, a discreet charm where no traces of surgery, injection or other aesthetic care is perceptible.– Docteur POIGNONEC

Aesthetic Surgeon in Paris
Rewarded with the Best Clinical Case Award in Rhinoplasty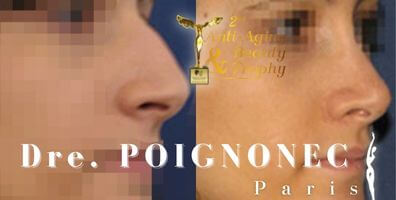 — Dr. Sylvie POIGNONEC is fully committed to Aesthetic Plastic Surgery and aims to perfection for each patient.
— Active member of the French Society of Plastic Surgery Reconstructive & Esthetics and member of the Committee of Experts of the AAC Label.
— Author and co-author of several books on aesthetic surgery and anti-aging medicine.
Rhinoplasty Specialist
Making an appointment by phone :
+33 (0)1 45 63 13 20
Monday to Friday 9:00 AM – 8:00 PM and saturday morning
Book by Internet your consultation or session for aesthetic treatment at the medical practice or before the surgery in Paris
Make an appointment 24/7
Rejuvenate without surgery
Contact the aesthetic surgeon
It is almost 3 years that I am following by Sylvie Poignonec, for skin care mainly: hualuronique acid, Botox, mesotherapy and laser … I only go once or twice a year. By small touches … and am very satisfied … The advice and the good measure of the treatment applied by Dr. Poignonec have been paid for me. Despite the tobacco, because I am occasional smoker, my skin ages much less quickly and my face remains juvenile … I highly recommend

When you meet Doctor POIGNONEC for the first time, you expect to discover a surgeon. Yes. But not only that. For Dr. POIGNONEC is above all an artist: she has this propensity to take a look at you sincere and "visionary", she works with a rare delicacy and a meticulous without equal, and above all she does not seek (only) to make you happy, It seeks to make the beautiful-even if you want to contain yourself in your sometimes unrealistic wishes. The classical music that accompanies it during the whole operation does not spoil the pleasure, on the contrary. "Yes, so what?" Will you say … So all of this makes you have a flawless confidence from the first date to the post-1 year checkup, through the operation. For my part, it was a liposuction of the lower limbs (horse panties, thighs, knees, calves, ankles): An operation reputed to have sometimes approximate results, often disappointing. It was quite the opposite: the result is very harmonious, smooth, feminine. I can't say big world that "he's changed my life." This is the case of Dr. POIGNONEC. My only regret: not having done this operation earlier.

Dr. Sylvie Poignognec is extremely competent and above all very human. The follow-up is top Agnes Remond and the team are adorable and friendly.

Nothing to say very good surgeon she was able to reassure me and asked me for an additional period of reflection on my part before I operate, I can only thank her my rhinoplasty is perfect.

Dr. Poignognec is remarkable this is exactly what I expected in natural result but with the little whip that rejuvenates me!
A big thank you and very quickly Dr

The aesthetic perfection tinted by a great humanity

I am still delighted with the result that is beyond my expectations, the appearance of my nose is beautiful natural and in perfect coherence with my personality, I am happy to often hear "you have a very nice little nose". Thanks to the life of having met this extraordinary woman surgeon.

Dr. Sylvie POIGNONEC is great I advise you strongly! Rhinoplasty very successful very very happy with the result.
Media and Congress Dr. POIGNONEC